The Best Shirt or Tee Shirt for a DTG Printer
With so many shirt options, which brand should I use?DTG LED UV Tee-Shirt Printers
Your DCS UV-LED DTG Printer is ready to go. You are eager to begin production. You are ready to purchase in-bulk the shirts, tee-shirts, and/or garments yo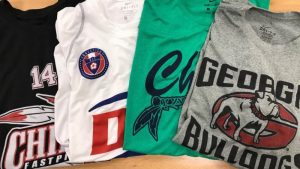 u need to start. A simple Google search for 100% Polyester T-shirts produces approximately 3,750,000 results!! Where do you begin?Apart from recommending a specific shirt or tee-shirt manufactured by a specific company or corporation, it is moderately difficult to explain the process of selecting the "best" shirt or tee-shirt to print on directly. If you purchase even a few dozen tee-shirts from the various different shirt or tee-shirt manufacturers it still will not be until the tee-shirts arrive from the vendor to your own facility that you come to the realization that each shirt, t-shirt, or garment is drastically different in look and feel compared to one other. With that being said, Direct Color Systems has some guidelines and helpful tips for selecting the most appropriate tee-shirts to print on with your DCS UV-LED Printer.
Tips for selecting shirts and shirt fabrics to print on:
Shirts that do not require a white underbase:DTG UV
While this may not always be possible, shirts or tee-shirts that do not require a white underbase (i.e. white, light grey, tan, etc.), will always yield the best results. Not having to print a white underbase improves the feel and softness of the print on the shirt or t-shirt, decreases throughput time, decreases setup time, doesn't require purchasing a spraying unit (for water) and washes significantly better. All of this, coupled with the fact that there is a much wider variety of shirts and t-shirts that yield acceptable output, makes printing to white or light shirts a no-brainer.
However, black or dark shirts are typically favored over white or light colored shirts. The selection process for shirts that require a white underbase is a little more involved and will require experimentation and validation by the operator.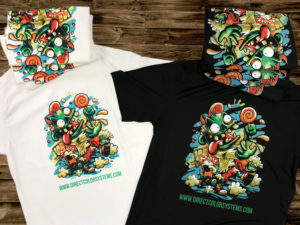 Shirts containing a high percentage (80 or above) of synthetic fibers:
DTG with UV shines in its ability to print to synthetics shirts and performance polyester t-shirts. Therefore, the higher percentage of synthetic fibers used when manufacturing the shirt, the better the results overall. However, if the shirt does not require a white underbase, 100% cotton, various cotton/poly blends and 100% polyester all work extremely well. The higher ratio of synthetic to natural fibers is very important if the shirt or t-shirt requires a white underbase.
Dark and black cotton shirts, t-shirts, or garments:
Black or dark colored 100% cotton shirts are the most difficult type of shirt to achieve any acceptable results with. Understand that some of these shirts and tees will never yield acceptable results. There are process steps and software settings that can be changed in an attempt to yield better results, but overall printing to any black or dark shirt that is not in the list of recommended shirts may be printing, profiling, and process of futility. Also, note that the IRF6-T white ink with IRF6 CMYK & Clear will produce the best results when printing to black or dark cotton shirts, t-shirts or garmets.
-Michael Perrelli, Direct Color Systems